I've just finished reading
Bobby Collins: The Wee Barra
(pictured, left)
-
David Saffer's biography of former Morton player Bobby Collins and to be honest I was slightly disappointed with it. The book wasn't poor but the details of his Morton career were.
Details of his two seasons at Cappielow were crammed in to three pages in a chapter that focused on the end of his playing career (at Bury, Morton, Oldham, and Australia) and his time as a coach and manager (Huddersfield, Hull, Barnsley and Guisely).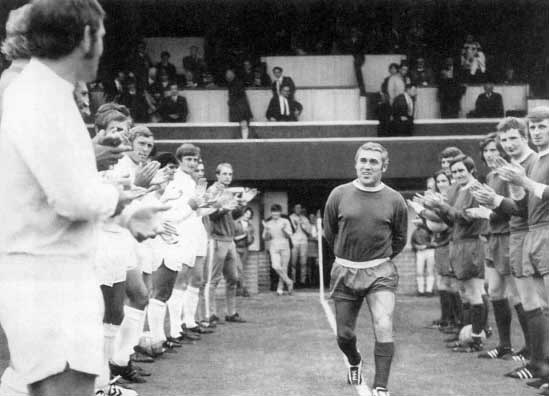 This picture features in the book. Collins is the man walking down the guard of honour made up of Leeds United and Morton players who were about to play in a friendly match that was billed as his last in Britain. A full strength Leeds side won 4-1. This was how the match was described: "A local paper [The Greenock Telegraph presumably] reported: 'Bobby Collins ended his remarkable twenty-two year career in British football amid emotional scenes. Before the kick-off, both teams formed an avenue to applaud the forty-year-old midfield veteran on to the pitch. Leeds United captain Johnny Giles and Morton chairman Peter Scott made presentations to Collins on behalf of both clubs.' "
Understandably the majority of the book is devoted to his spells at Celtic, Everton, Leeds United and his time playing for Scotland but I was hoping to read more about his time at Morton. I wonder if any supporters who watched Bobby play for us in the 1969-70 and 1970-71 seasons could post a comment or email me (jonathan_mitchell_1982@hotmail.com) with any memories they have of Collins' time at Morton and I'll post them on here.

Between 1969 and 1971 Bobby Collins played for Morton 62 times scoring 3 goals (all competitions). He won 31 caps and scored 10 times for Scotland. 1 of the 10 goals was scored at the 1958 World Cup Finals - unfortunately in a 3-2 defeat at the hands of Paraguay.

A Celtic fanzine's review of the book: http://images.google.co.uk/imgres?imgurl=http://www.ntvcelticfanzine.com/images/rev-128-collins.jpg&imgrefurl=http://www.ntvcelticfanzine.com/reviews/review%2520128%2520collins.htm&h=259&w=177&sz=8&hl=en&start=1&tbnid=rDvVjZfmNivZeM:&tbnh=112&tbnw=77&prev=/images%3Fq%3Dbobby%2Bcollins%2Bthe%2Bwee%2Bbarra%26gbv%3D2%26hl%3Den%26sa%3DG

Buy it here: http://www.amazon.co.uk/Bobby-Collins-David-Saffer/dp/0752431765/ref=sr_1_1?ie=UTF8&s=books&qid=1207321754&sr=8-1